10 Mar 2023
'You never stop learning in dentistry': Q&A with Dr Graham Stokes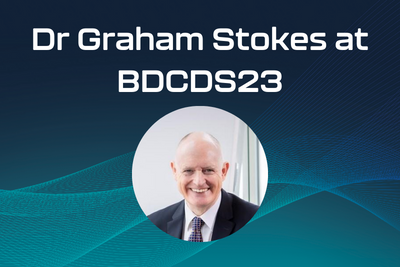 General dental practitioner and director of GDS Educational Services Dr Graham Stokes will be among this year's faculty of speakers at the British Dental Conference & Dentistry Show, taking place at the NEC in Birmingham on the 12th and 13th May. Having lectured on postgraduate dental courses since 1993, Graham is passionate about providing dental education and will be bringing his teaching expertise to BDCDS this year. Specialising in prosthetics, occlusion and implant dentistry, Graham also has a longstanding relationship with the oral health training charity Bridge2Aid, an organisation which provides dental education and care for people in some of the world's most deprived countries.
We were delighted to be able to speak with Graham about his upcoming lecture at BDCDS, as well as what he is expecting from this year's show. See what he had to say below.
Can you give us an overview of what you'll be speaking about at the British Dental Conference & Dentistry Show Birmingham in May?
I will be presenting a step-by-step guide to help practitioners provide stable, functional and aesthetically pleasing partial dentures for their patients using case examples to demonstrate how this is achieved. I want to explore how to decide between the different alternatives that are available, and help my colleagues provide successful partial dentures.
Why do you think this is an important subject to explore?
With an ever-increasing ageing population, it is becoming more and more important for dental care professionals to be able to provide effective partial dentures for their patients. I think it is important to review and remind ourselves of the design sequence involved, and the importance of gaining good impressions and planning in the provision of removable partial dentures. Clinicians must remember that the design of a good partial denture is essential to ensure that patients receive the quality of care they deserve and that clinicians want to provide.
Who will this talk be useful for and why?
This presentation will be of interest to all dental care professionals who care for partially edentulous patients. Providing great dental care is a team effort. In my experience, when all the team involved in a patient's care truly understand and have a good knowledge of the subject, the better care the patient receives and the greater the satisfaction and appreciation the team experiences.
Apart from your own speaking session, what else are you looking forward to about attending BDCDS 2023?
You never stop learning in dentistry, so I am looking forward to enhancing my knowledge, as well meeting like-minded dental colleagues and old friends – especially other Bridge2Aid volunteers!
You can hear Dr Graham Stokes' lecture entitled 'Successful partial dentures: A busy practitioner's guide' in the BDA Theatre on Saturday 13th May at 14:35 at this year's British Dental Conference & Dentistry Show.