23 Feb 2023
BDCDS 2023 programme now live!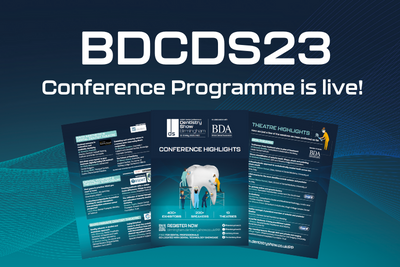 The British Dental Conference & Dentistry Show (BDCDS) returns to the NEC Birmingham on 12-23 May 2023 and the extensive CPD educational programme is now live on the website.
Browse the full line-up of outstanding speakers and diverse range of topics being discussed, including management of tooth wear, use of digital imaging technologies, anterior and posterior composite, endodontics, implantology, practice marketing, career development, team building, skill mix and so much more. Whether you're looking for new equipment and materials, hoping to streamline your business or considering your next career move, BDCDS 2023 has something for you.
With the programme now live, you can plan your visit to make sure you don't miss any important sessions for the most productive learning experience possible. Browse the website and register – for free – online today!