How we put our people first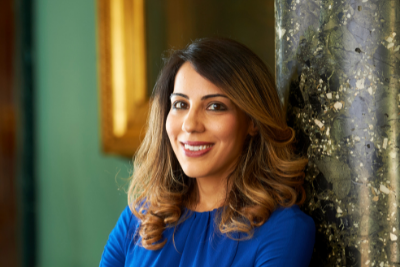 Colosseum Dental is the fastest growing pan-European dental provider. It consists of 70+ practices across the UK, all of which received significant refurbishments in recent years with a £10m investment into facilities and surgeries. We are committed to creating the best possible environments for practice teams to work in and provide exceptional patient care. We were recently delighted to welcome a new Clinical Director to Colosseum Dental UK – Dr Farzeela Rupani – who has the experience and expertise to help us further improve how we support our people and our patients.
Why is she perfect for the role? She shares her career so far:
"I am a GDP by background with an interest in cosmetic dentistry and orthodontics, having qualified almost 16 years ago from GKT. Following my 'Vocational Training' (now replaced by Foundation Training) year, I worked in mixed practices around north London and Hertfordshire with high NHS delivery commitments, so I am well versed in understanding the challenges that our clinicians face.
"My interest in business management, health policy and leadership, led me to embark on an MSc in International Health Management, leading to a healthcare consulting role at KPMG. Here I worked with different NHS trusts on improving operations and quality and making efficiency savings whilst being mindful of the clinical impact. Subsequently, I took on a role at the GDC within Fitness to Practise, initially as an Investigating Committee member and latterly as a Clinical Case Examiner. Prior to joining Colosseum Dental UK, I advised and sat on the Senior Leadership Team of a major dental supplier. Additionally, I have taught undergraduates at Guy's Hospital over the past few years. My teaching and mentoring experience is something I am really looking forward to bringing to my role, working with new and experienced clinicians."
Farzeela has a clear passion for education and professional development, so she will be helping us to motivate and facilitate our clinicians in their career development moving forward. Her diverse personal experience gives her a unique perspective to support our clinicians and our business simultaneously. She says:
"I understand the pressures foundation dentists and recently qualified practitioners face; they suffered clinically during the pandemic, seeing fewer patients than they would have liked. I want to create comfortable environments for them to grow and gain the experience necessary to take their careers in whichever direction they wish. For our more experienced clinicians, I am keen to explore growth and development options – I know how easy it is to get stuck doing the same thing day in, day out, which can be frustrating, so we need to find different directions.
"Additionally, I am here to listen and learn from our clinicians as to how we can drive this business forwards together. I am a true believer in an open-door policy and want our clinicians to feel comfortable approaching me and my team and talking about their ideas as well as their concerns."
Going on to discuss what Colosseum Dental UK offers clinicians and what she has planned for the future, Farzeela continues:
"I believe Colosseum Dental offers dentists the best opportunities in the UK. Being a relatively small dental provider, there is a family feel, everyone knows everyone else, it's a real community. Our clinicians are not just another number on a spreadsheet. The Colosseum Training Academy in Oslo is another fantastic asset that our UK-based clinicians have access to. In addition, I appreciate the links to the Jacobs Foundation, a charity with a great ethos and long-term vision to give young people a better future through early childhood development.
"For my first few months in the role, I have got lots of practice visits lined up, I want to get to know as many team members as possible and find out what the concerns are, from senior management to practice team members. I want our clinicians to know that I understand what they are going through. I want to bring a sense of positivity, that there is always a solution and a way to turn things around. It is also my ambition to help dentists develop a career with us over time. Whether you need assistance acquiring new skills to offer different types of treatment, or to specialise, Colosseum Dental UK can help. Ultimately, as Clinical Director, I want the clinical management team to be accessible to everyone. I want to hear all their concerns and ideas, positive or negative. Clinicians must know they are listened to, that they can contribute and have ownership, so we can move things forward together."
With Farzeela's help and guidance, we are looking to build further on the many benefits we offer our clinicians. We will provide career development opportunities and support alongside stunning practices, excellent facilities, flexible working arrangements and market-leading rates. No matter your experience so far, your speciality or your career ambitions, find out what Colosseum Dental UK could do for you.
For more information about Colosseum Dental, please visit www.colosseumdental.co.uk/careers #WeCareMore