09 Dec 2022
The latest addition to the mobile dental fleet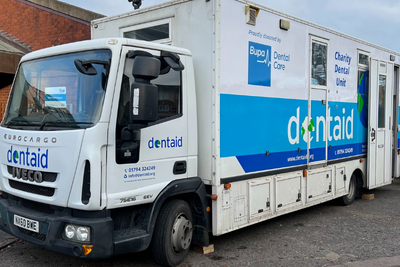 A new mobile dental unit that will enable people experiencing homelessness and other under-served communities to access dental care has been donated to Dentaid by Bupa Dental Care.
The vehicle will be used by the charity for its clinics across the UK. In addition to rough sleepers and those who are vulnerably housed, the mobile dental surgery will be used to provide care for families experiencing poverty, victims of domestic violence, fishing communities, refugees and asylum seekers and head and neck cancer patients.
Dentaid's fifth mobile dental unit will be officially launched on Tuesday (December 13th) at Trinity Winchester – a service for people experiencing homelessness in the city.
"Dentaid is an important charity and we are honoured to work with them on such a meaningful project," said Neil Sikka, chief dental officer for Bupa Insurance and Dentaid volunteer. "It's a privilege to volunteer onboard the new unit and see the visible difference it makes. We look forward to continuing our work with Dentaid and supporting future initiatives."
Andy Evans, CEO at Dentaid, added: "2022 has been our busiest year ever with nearly 280 UK clinics compared with 174 last year. And every day we get requests to visit new locations and help more people. This new vehicle is crucial in enabling us to expand and meet this demand.
"Bupa Dental Care has supported Dentaid for a number of years now. We are committed to increasing access to dental care because we know it can play an important role in helping underserved and vulnerable people move on to a new chapter in their lives and we are grateful that our partnership with Bupa Dental Care helps us to achieve this."
Dentaid is Bupa Dental Care's chosen charity and its colleagues have been involved with fundraising events including the Straumann Bike Ride, Super Saturday and community initiatives hosted by Bupa practices.
Bupa colleagues have also regularly volunteered on the charity's mobile dental units in the UK and joined overseas volunteering teams that support Dentaid's overseas partners.