22 May 2020
Life after COVID – 9 key insights from the leaders in dentistry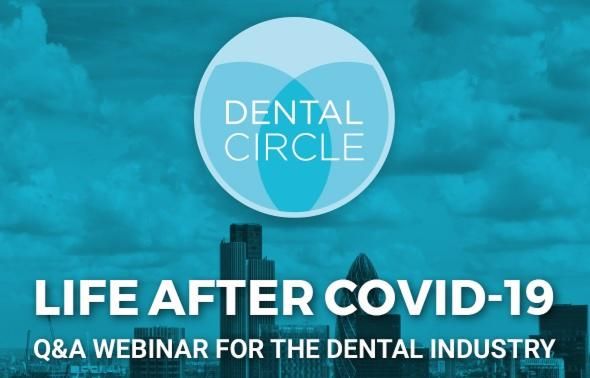 If you didn't get to watch Dental Circle's popular Life after COVID-19 webinar, Dev Patel and Amit Patel, founders, summarise the key messages:

1. Immediate actions: Leadership, protect staff, care for patients. Surviving the short term to protect the long term.
2. Surviving financially: Understand different scenarios. Look into insurance options and your business interruption insurance policy. Check the wording carefully and think about using a no win no fee loss assessor to deal with your insurance claim. Everyone should have already submitted their intent to claim to their provider.

3. Contingency planning. Phases/waves of returning back to 'normal' and how you will operate through these phases. Looking at reinventing and going digital to adapt to the climate. Think about how to operate a remote consultation service in the form of video calls as well look at providing remote triage for emergency patients.
4. Payment plans with suppliers and controlling/stopping direct debits. Writing to landlords, local authorities. Reach out to suppliers. Cash-flow forecast. Understand furlough tax.
5. Utilising lockdown: Opportunity do gain CPD. Mental health resources and open-up communications. Plan for different scenarios, what marketing will you need? What suppliers will you need? Talent development/career pathways. Going digital.
6. What will normal look like: Online consultations. PPE for staff and patients. Structuring teams and shifts to protect staff. Think about air filtration but only purchase with evidence base.

7. Diary management: patients who are in need (pain) – who are they? Virtual consultations with cosmetic needs. Phasing patients through the practice. Prepare from team change. Comprehensive care dentistry – advent of better dentistry. Look after the people who will look after you in the future.
8. Practice valuations: Practice valuations will drop as the months affected by COVID will reflect in the annual turnover. Associates may look to purchase practices to secure their future but investment in a practice will have to be taken with careful consideration.

9. Recruitment: Associate dentists will struggle initially with the increased cost of PPE and seeing less patients and their renumeration will reflect this.
"It was great to chair this event. The panel that were selected provided us with invaluable information of how COVID 19 will affect the way we practise dentistry and aim to come out of all of this. Hopefully it provided some insight for the 3200 people that registered to watch the webinar and I am pleased to announce the feedback was fantastic" Dev Patel CEO Dental Circle