21 Apr 2023
The multidisciplinary interface of endodontics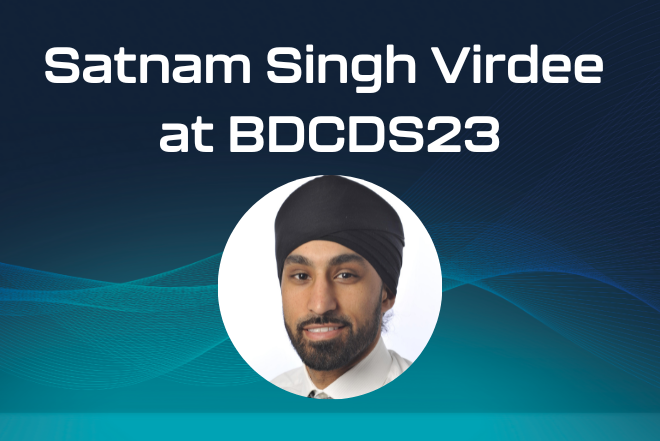 Satnam Singh Virdee will be discussing the multidisciplinary interface of endodontics at this year's British Dental Conference & Dentistry Show, taking place on the 12th and 13th May at the NEC in Birmingham. Clinical lecturer and honorary specialty registrar at the University of Birmingham, Satnam is currently completing a PhD in regenerative endodontics and serves as honorary assistant secretary at the British Endodontic Society.
We were delighted to be able to speak with Satnam about his upcoming lecture, the evolving nature of endodontics, and the different career pathways open to clinicians. See what he had to say below.
You'll be speaking at BDCDS about the multidisciplinary interface of endodontics. Can you tell us what you mean by this and give us a brief overview of what you'll be covering during your lecture?
A multidisciplinary approach to endodontic treatment is working with different groups of healthcare professionals to manage specific complicating factors in a manner that allows patients to maintain a healthy, functional and naturally aesthetic tooth. In many instances, these teeth would otherwise be considered to have a poor or hopeless prognosis, and would likely require extraction or need prosthetic replacement.
This discussion at the British Dental Conference & Dentistry Show will explore how a multidisciplinary approach affects endodontic treatment planning, and will use some specific case examples to demonstrate the advantages and challenges of adopting a multidisciplinary endodontic approach. I will also be speaking about relevant career development pathways that would equip delegates with the necessary skills to manage such cases, and will discuss how the British Endodontic Society can help facilitate delegates' career aspirations.
Why do you feel this is an important topic to cover?
The expectations of an ageing population to maintain natural dental function and aesthetics are ever increasing. Whilst prosthetic options have significantly developed in quality over the last several decades, they do not offer the entire spectrum of benefits of a natural tooth. Working with other specialties to manage specific endodontic complicating factors in once thought to be palliative teeth could therefore increase retention. Being aware of the common challenges, the specialties required and the staging of endodontic therapy within a multidisciplinary treatment plan would help clinicians facilitate this goal for their patients.
What would you like delegates to take away from your lecture?
It is hoped that this discussion will help delegates recognise endodontic cases that would benefit from multidisciplinary intervention and improve their ability to work with their colleagues to implement multidisciplinary treatment plans, thereby providing patients with a broader range of treatment options to retain their endodontically compromised teeth.
By the end of the session, delegates will also be familiar with different career development pathways that could assist them in managing such cases, and with initiatives led by the British Endodontic Society that will help delegates develop their careers.
What new developments are you seeing in the world of endodontics at the moment?
A considerable amount of research has been undertaken to improve the clinician's ability to disinfect root canals. However, despite advancements in knowledge and armamentarium, endodontic success rates have remained relatively static over the last five decades. As such, endodontic research and developments have now focused on developing more biologically driven treatment strategies that, as well as disinfecting the canal, actively stimulate the body's healing responses to upregulate the regeneration of damaged tissues. This has led to the development of more conservative ways to manage deep carious lesions, the identification of biomarkers that aid in diagnosis and prognosis, and novel bioactive materials that can interface directly with host pulp and periradicular tissues. These are just some examples of the exciting endodontic research that is currently being carried out by innovative teams across the world and represents a paradigm shift toward the biological aspects of endodontics, as opposed to the mechanical.
Do you have any advice for dentists thinking about specialising in endodontics?
Be aware of the various pathways available to specialising in endodontics, what they entail and differences between them. Link yourself with a university teaching hospital or specialist society (i.e., the British Endodontic Society) to create opportunities for yourself to achieve the essential and desirable criteria for these posts.
Apart from your own speaking session, what else are you looking forward to about attending BDCDS 2023?
I am looking forward to meeting delegates, listening to other speakers and engaging with the trade.
You can see Satnam Singh Virdee's lecture on the multidisciplinary interface of endodontics on Friday 12th May at 10:30 in the Specialty Interest Theatre at this year's British Dental Conference & Dentistry Show.