24 Jan 2023
New research and new motivation for patients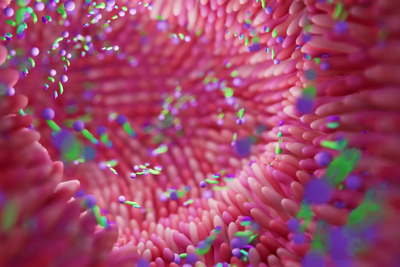 There has long been an association between systemic and oral health. New research published at the end of 2022 has also now established a connection between the oral microbiome and symptoms of anxiety/depression.
According to the World Health Organization (WHO), 970 million people were estimated to be living with anxiety and depression disorders in 2019. This is thought to have risen by 26-28% during the pandemic in 2020. Risk factors for these conditions include – but are not limited to – stress, childhood trauma, a history of mental health conditions, thyroid problems and heart arrhythmia.
Mouth and mind
This latest study suggests that other physical traits such as the oral microbiota may also contribute towards or serve as a potential marker for anxiety and depression. It looked at health data from more than 500,000 participants between the ages of 40 and 69, from 2006 to 2010. The results found multiple significant saliva-dorsal tongue microbiome interactions were associated with anxiety and depression. It also suggested causal relationships between the salivary microbiome, dorsal tongue microbiome, anxiety and depression.
What does this mean for professionals? This is just one more tool in the oral hygiene arsenal, helping clinicians to further impress on their patients the importance of oral health. The more they understand how their mouth links to the health of their body and mind, the more likely they will be to follow professional recommendations and look after their teeth and gums.
Motivating patients
In educating patients and giving them knowledge of the links between good oral hygiene and general health, it is hoped that dental professionals can motivate their compliance with good at-home dental hygiene routines. This is known as the advice model of health education (KAB) according to psychologists, which relies on increasing awareness in patients to initiate behaviour change. Another concept is motivational interviewing, which is a patient-centred technique that encourages patients to self-assess their needs and actions. By recognising their own shortcomings, it is hoped that they are more likely to implement changes and improve their oral hygiene – rather than simply being instructed to do something differently.
To use this effectively, patient communication must be effective. This means using language and context that the patient understands. They also have to feel comfortable enough to be honest about their habits and discuss what they think they should be doing better. How this is achieved will vary for every patient, but it's essential for good practitioner-patient rapport.
Knowledge and the tools to use it
Ultimately, the dental team is there to give patients both the knowledge they need about oral health, and the tools to use that information in the right way. For some patients, discussing how their oral health impacts their mental health could be just the motivation they need to optimise their behaviours at home. Why not take this opportunity to share a new study and give your patients another reason to put their oral hygiene first?