25 Jan 2023
Practice finance with Dental Elite: what to expect when you're buying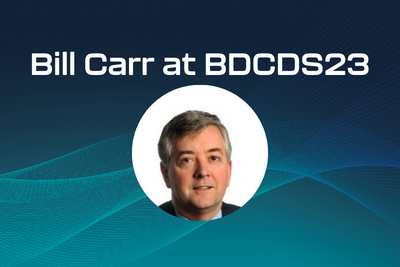 Bill Carr, Financial Consultant from Dental Elite, will be presenting a lecture at the British Dental Conference & Dentistry show (BDCDS) 2023. Bill will be exploring dental practice financing, having a deeper look at the entire process and going over what delegates need to look out for when buying a practice. Bill comments:
"My session will explore the process from when you've found a dental practice to when you're buying it, and things to be mindful of.
"Prior to buying, there's a lot for you to consider: do you have a deposit? Are you up-to-date with your accounts? It's also important to think about the type of dental work you do – there's no point buying a practice that specialises in endodontics if you don't want to deliver a lot of root canal treatment!"
He continues: "You also need to take into account the location and patient demographics, in addition to patient footfall, competition and if you'll have the ability to expand the premises. How would you want to expand the business? For example, could you bring in a dental hygienist, or an endodontist once a month?
"What changes are you expecting to make? You should consider that any changes to the pricing or way of working may have an impact on patients, so small alterations over time are usually best."
There will be pitfalls along the way, Bill explains, and that's why it's important to think carefully about these factors and ask plenty of questions. Bill hopes to offer guidance to delegates on how certain challenges can be avoided or overcome:
"We've experienced plenty of trials thanks to the COVID-19 pandemic. It affected accounts in 2021, there were clawbacks, and wages and materials went up. Nonetheless, the banks still have an appetite for lending in dentistry – it remains a green light sector.
"I think my session would be ideal for delegates who are currently looking to buy, or are considering it in the next couple of years. It may even be good for those who have already bought a practice and potentially experienced difficulties along the way – they can come and have a chat with us before they take the steps to acquire another. We really understand the market – it's simple for us but some dentists may not have that crucial background in finance."
Bill goes on to share what he's expecting for this year's BDCDS:
"It's a great event for all dental professionals, foundation dentists in particular. I think the session would be perfect for these individuals as around 75% of foundation dentists will purchase a practice within the next 5 years.
"It's also an opportunity for Dental Elite to support delegates in various areas of their professional lives, whether they're looking to buy or sell a dental practice, or build up their dental team. So, we can aid not only with finance but also recruitment.
"In terms of the BDCDS, Birmingham is really easy to get to, so we are looking forward to seeing plenty of delegates at the show!"
Don't miss this session
At this year's BDCDS, there will be plenty to see and do. If you're looking to buy a practice now or in the future, don't miss Bill's session and be sure to visit Dental Elite at stand D60 to have a chat with the team.
Make sure to register and mark your calendars – the BDCDS will take place at the NEC Birmingham, on 12-13 May 2023! We can't wait to see you all there.