15 Feb 2022
Registration is live!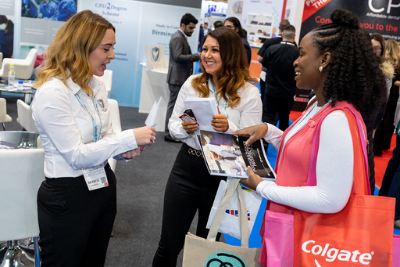 We are delighted to announce that registration is now live for both the British Dental Conference and Dentistry Show (BDCDS) and the co-located Dental Technology Showcase (DTS) 2022. This means you and your whole team can secure your places at the event in May and start planning your visit!
What's on?
The programme is now live on the website so you know exactly what to expect from this year's conference. Browsing the programme early is a great way of organising your visit so that you don't miss any key sessions and ensure that you make the very most of your time over what is usually a very busy two days.
Several of the theatres at the BDCDS are being supported by or presented in collaboration with leading professional organisations from across dentistry, ensuring highly relevant and inspiring lectures, discussions and workshops.
The BDA Theatre will certainly be a highlight, with highly esteemed speakers exploring a wide range of clinical and business topics from occlusion to oral and heart health, periodontal classification, avoiding litigation, dental materials and so much more. The British Academy of Cosmetic Dentistry (BACD) will be programming the BACD Aesthetic & Digital Dentist Theatre and the British Association of Private Dentistry (BAPD) will present prominent professionals in their own dedicated theatre as well.
Ensuring comprehensive education for all team members, the British Society of Dental Hygiene and Therapy (BSDHT) and the British Association of Dental Therapists (BADT) will be presenting and moderating the Hygienist & Therapist Symposium. The British Association of Dental Nurses (BADN) will also be delivering the Dental Nurses' Forum, with sessions in the Specialist Interest Theatre supported by the British Endodontic Society (BES) and British Society of Periodontology and Implant Dentistry (BSP).
More than learning
Of course, the BDCDS will offer much more than the first-class education they have become so well known for. They provide the perfect opportunity to engage with the wider dental community, catch up with friends and strengthen professional relationships with individuals and businesses throughout your network. The Dental Awards on Friday night will provide further socialising benefits – a great chance to relax and unwind with colleagues!
The trade floor will also be a fantastic platform for networking. Hundreds of dental manufacturers, suppliers and training providers will be on hand to demonstrate the latest products and technologies, and offer bespoke advice to delegates. With on-stand learning and the chance to make new connections, this will be another advantage for all delegates to look forward to.
BDCDS highlights:
- 14 theatres
- 100+ hours of content
- 200+ speakers
- 10,000+ visitors
- 400+ exhibitors
Register on the website today!
As always, registration for the BDCDS is completely free for all delegates. Register online to secure your place and start planning your visit today!