23 Jan 2023
Registration is live!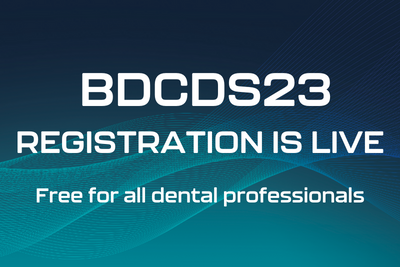 BDCDS is back! Registration is officially open for the British Dental Conference & Dentistry Show (BDCDS) 2023. Easily secure your place online, and it's still completely free for all members of the dental team to attend.
BDCDS 2023 at a glance:
· 10,000+ visitors to ensure copious networking opportunities
· 400+ exhibitors demonstrating cutting-edge products, materials and technologies
· 200+ speakers delivering world-class information, advice and inspiration
· 150+ hours of content covering a broad range of topics for the entire dental team
The array of theatres you can look forward are:
BDA Theatre:
The British Dental Association (BDA) has supported BDCDS for several years and will be returning to the event this May with its highly-anticipated BDA Theatre. Thought-provoking presentations will be provided by dentistry's leading innovators and thinkers for up-to-the-minute advice and guidance.
BACD Aesthetic & Digital Dentist Theatre:
The British Academy of Cosmetic Dentistry (BACD) will also return in 2023, offering a comprehensive programme dedicated to aesthetic and digital dentistry.
BAPD Private Dentistry Theatre:
The British Association of Private Dentistry (BAPD) will host an engaging programme that explores some of the key challenges and opportunities in the private sector right now.
Dental Hygienist & Therapist Symposium:
Designed specifically for dental hygienists and therapists, this symposium will offer hours of CPD-accredited content covering a wide range of relevant clinical and career development subjects.
Dental Nurses' Forum:
Hosting the British Association of Dental Nurses' (BADN) National Dental Nursing Conference, this Forum will keep dental nurses up-to-date with the latest regulations, recommendations and opportunities in the profession.
Practice Management & Services Theatre:
Sponsored by Software of Excellence, this theatre is dedicated to practice managers and owners, discussing ways to enhance the patient experience and practice efficacy.
CGDental Professional Development Theatre:
Brand new for 2023, this theatre will help the entire dental team meet their CPD and educational requirements or ambitions.
Dental Business Theatre:
Sponsored by Practice Plan, this is the perfect platform to discuss the hottest topics relating to the business of dentistry and hear from experts in the field.
Next Generation Conference:
Supported by Dental Circle, this conference programme puts the spotlight on exciting opportunities and ideas for young, talented dental professionals who are new to the profession and looking to find their path.
The Aligner Lounge:
Sponsored by Align Technology, this theatre will explore the latest news, products and concepts relating to removable orthodontics.
Speciality Interest Theatre:
This theatre will be supported by the British Endodontic Society (BES), British Orthodontic Society (BOS) and British Society of Periodontology (BSP). Registered specialists and those at the forefront of their fields will share expertise in a range of disciplines.
Compliance Clinic:
Sponsored by Apolline, this clinic will be all about helping delegates to navigate the complexities of compliance in the modern profession.
Facial Aesthetics Theatre:
For dental practitioners thinking about adding a new avenue to their practice and their career, this theatre will provide advice on taking those first steps into facial aesthetics.