23 Oct 2020
The need for consensus guidelines in MIOC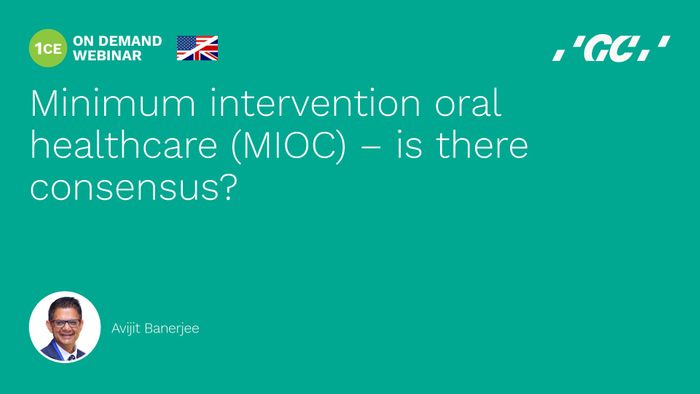 Minimum intervention oral healthcare (MIOC) is all about taking a holistic approach to patient care. It requires a collaborative effort from the entire dental team and the patient, and has been growing momentum over the past few years.
In a world where clinical and scientific evidence is central to everything the dental team does, what is the rationale for MIOC in modern dentistry? Is there more reason to utilise the principles of MIOC now more than ever given the continuing impact of COVID-19?
These pertinent topics were explored in a webinar recently hosted by GC UK and presented by Professor Avijit Banerjee, Chair of Cariology & Operative Dentistry at the Faculty of Dentistry, Oral & Craniofacial Sciences, King's College London.
Professor Banerjee introduced the key ideas by emphasising the impact of non-communicable oral diseases on the health and wellbeing of the global population. He provided an interesting analysis of MIOC, with strengths including the focus on individualised, preventive care; the value and responsibility of the patient in their own dental health; and the opportunities provided by modern skills techniques and materials to deliver minimally invasive treatment. The weaknesses to be aware of included possible challenges in funding; the need for further team training; potential lack of infrastructure required to support the process; and time to work with patients.
Professor Banerjee demonstrated the MIOC framework in restorative dentistry, which covers everything from periodontology to endodontics. Detailing the key aims of MICO, particularly in terms of caries management, Professor Banerjee commented:
"We need to empower our patients to value and make responsible lifestyle choices. That, arguably, is the hardest aspect of the whole care planning and execution."
He went on to describe why a "treatment plan" should instead be referred to as a "personal care plan", as it will need to evolve as the patient's behaviour changes. The chance to engage with patients using teledentistry techniques post-pandemic was also referred to, allowing more regular communications that Professor Banerjee described as a "very exciting opportunity to develop".
He also urged delegates to be pragmatic about caries risk susceptibility assessments, tailoring the framework to the practice and calibrating this for all team members regularly to ensure consistent scoring. This can then be used to create a flowchart to help the team categorise patients as low risk or in active care, and then support prevention or minimally invasive restoration processes, as well as recall guidelines.
Various possible non-operative management techniques for non-cavitated lesions were discussed, followed by approaches for cavitated lesions. It was made clear that our understanding of carious lesions and the caries process has developed significantly in recent years, rending traditional notions that caries is an infectious disease that cannot be arrested "erroneous". This means clinicians today can be more selective in their caries removal and management, enabling a minimally invasive approach and adhering to MIOC principles.
Professor Banerjee advocated the need for consensus guidelines in caries management, after demonstrating the wide-ranging guidelines currently available. He said:
"The difficulty with caries management is, there are so many variables, every practitioner does something slightly differently. When you're trying to find evidence to collate the differences, it becomes very difficult."
Concluding with the many benefits of integrating MIOC into daily practice, the webinar provided a very useful outline of what the concept means in modern dentistry and how clinicians could utilise it within their own daily practice. It can be viewed online here > https://www.gceuropecampus.com/de/webinar/minimum-intervention-oral-healthcare-mioc-is-there-consensus-w-51800/