10 Feb 2023
Welsh dental nurse students to become BADN student members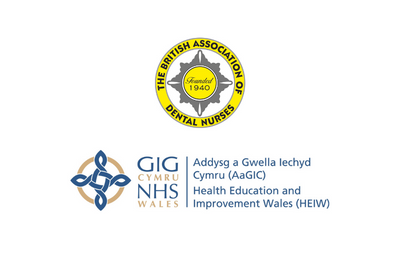 The British Association of Dental Nurses (BADN), the professional association for dental nurses in the UK, is delighted to announce that Health Education and Improvement Wales (HEIW), which supports the education and training of 3,675 Dental Care Professionals (DCPs) in Wales, will be automatically enrolling all of its student dental nurses as BADN Student Members from 2023.
"BADN membership involves student dental nurses in the dental nursing community" said BADN President Debra Worthington "and embeds the concepts of professionalism, ethics and life-long learning. We warmly welcome HEIW's new student dental nurse 2023 intake into the BADN family."
Health Education Improvement Wales (HEIW) is dedicated to transforming the workforce for a healthier Wales. It is a special health authority within NHS Wales and sits alongside health boards and trusts. It has a leading role in the education, training, development and shaping of the workforce in Wales, in order to ensure high-quality care for the people of Wales. One of the workstreams which is high on the agenda is workforce planning, addressing the recruitment and retention issue within dentistry and particularly dental nurses. As part of the repsonse, one aspect has been to commission a dental nurse training programme, working in partnership with the NEBDN to run a dental nurse diploma course commencing in June. HEIW realises the importance of dental nurses being a part of their professional organisation right from the beginning of their career, and will enrol all of their trainees with the BADN as student members so they can enjoy the benefits right from the start.

"As a member of BADN for almost the whole of my professional life (some 40 years) I have had the benefit of being supported by them at every stage of my career as a dental nurse." said Kathryn Marshall, HEIW's Head of Dental Workforce Development. "Our students who are new to the dental workforce will have the advantage of being part of their profession right at the start of their career. HEIW and BADN will continue
to work together to support these dental nurses beyond their training, so they can enjoy a full filling career and make a difference to the oral health of the population of Wales".
BADN Student Membership, which costs £10 per year, offers student dental nurses access to the quarterly digital "British Dental Nurses' Journal"; the Legal Helpline; the Health & Wellness Hub offering articles and information on physical, mental and financial health as well as the counselling/support helpline; BADN Rewards, which offers a wide range of special offers and discounts on shopping, insurance, lifestyle, travel and much more; the members' area of the BADN website www.badn.org.uk with information and advice; and the Totum Pro discount card. Once they are qualified RDNs and progress to Full Membership, they will also have access to special member rate indemnity cover and CPD, including the BADN Personal Development Planners and CPD Activity Logs. It is estimated that judicious use of membership benefits can potentially save BADN members around £450 per year[1].
Student dental nurses (and Registered Dental Nurses) can join BADN at www.badn.org.uk/join. Other dental nurse training providers wishing to enrol their students as BADN Student Members are invited to contact BADN's Chief Exec Pam Swain on 01253 338365.