16 Nov 2021
The impact of digital and dirty data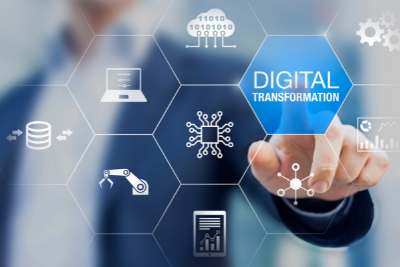 Much of the world we live in is digital – not just within dentistry, but in every aspect of our personal lives.
Gone are the days of calling a friend on their landline, watching a video or listening to a cassette tape. Even the cars we drive, our homes and the environments we work in often rely on digital algorithms, automated technologies and online platforms. However, the unprecedented rise in the use of digital has created concerns regarding its impact on the natural world. 'Dirty data' is just one of many factors contributing to climate change.
The rise of digital has been driven by many factors, the most significant often being the increased efficiency and time-saving advantages afforded. In some situations, a reduced risk of human error and enhanced quality of a product or service have also transformed our way of life. Having recognised the impact that digital may be having on the planet, developers are today looking to optimise technologies while minimising their carbon footprint. This is especially relevant following the recent COP26 in Scotland, where key issues regarding the climate crisis were brought to the fore.
What is dirty data?
So-called 'dirty data' is any data that takes up unnecessary space on the global database – and it can include simple things that we are all guilty of. For example, do you have duplicated photos on your mobile phone? Do you ever use two or more electronic devices at once? Do you focus on something else while streaming TV or video content? When was the last time you cleared archives in your messaging services like WhatsApp or Facebook Messenger? Do you have text messages that are years old and you'll never read again?
All of these are dirty data – they are maintained on a digital device or in the cloud, even though they are obsolete. This may all seem very insignificant on an individual basis, but scale it up to the entire UK and this dirty data accumulates rapidly. According to the Institute of Engineering and Technology,[i] unwanted photos alone are thought to account for up to 10.6kg of CO2 emissions every year – that's the same as more than 112,500 return flights between London and Perth, Australia! Similarly, one hour of video streaming has a carbon footprint of roughly 55g of CO2. With adults in Britain spending an average of 40 hours a week streaming video, that equates to over 113kg of CO2 annually, which would be the same as driving just under 300 miles.
General digital impact
Dirty data aside, there are general concerns about how digital technologies are adding to the problem of global warming. One source from 2019 suggested that consumption of energy by information and communication technologies was increasing by 9% every year.[ii] This remains controversial given the difficulty of measuring environmental impact of digital technologies and the speed with which solutions are developed, but it does highlight an interesting issue.
Of course, it's not all bad news for digital on the green front. These solutions, particularly artificial intelligence (AI) technologies, may be part of the solution to climate change as well. The Royal Society[iii] has already noted potential for AI to be applied to support significant societal changes, including what can be done in the quest for net zero. If utilised soon, digital could help us to upscale renewable energy production, minimise energy waste and combat the climate crisis more efficiently.
Data, digital and dentistry
Though there are currently no studies looking into the amount of unused and unwanted data saved within the dental world, we could safely assume it is substantial. Patient records for individuals you haven't seen in years, duplicated x-ray images saved in files, old postal addresses and other incorrect information would all contribute. Of course, some of this data – especially old patient information – will need to be kept on the system and so there is little you can do about it, but there may be some opportunities to clean up databases, empty trash folders or sort through archives. You'll be doing your small bit for the planet and your practice software and technologies may even benefit from increased available memory.
For advice on how to safely arrange your data for maximum benefit, as well as other ideas on reducing your business carbon footprint, why not come along to the British Dental Conference and Dentistry Show Birmingham in May 2022? There will be plenty of IT experts on hand to help, in addition to 200+ speakers, 100+ hours of content, 400+ exhibitors and 10,000+ visitors.
Until then, simply being aware of the small ways you can have an effect on the planet is important. Just 10 minutes spent sorting photos on your mobile phone next time you sit down with a cup of tea would be beneficial. It's quick and easy, but it will make a difference.
The next British Dental Conference and Dentistry Show Birmingham will be held on Friday 13th and Saturday 14th May 2022, Birmingham NEC, co-located with DTS.
For more information, visit birmingham.dentistryshow.co.uk, or email dentistry@closerstillmedia.com
[i] The Institute of Engineering and Technology. Dirty data. Media Hub. Press Release. October 2021. https://www.theiet.org/media/press-releases/press-releases-2021/26-october-2021-dirty-data/ [November 2021]
[ii] The Shift Project. Learn ICT: Towards digital sobriety": Our new report on the environmental impact of ICT. March 2019. https://theshiftproject.org/en/article/lean-ict-our-new-report/ [Accessed November 2022]
[iii] The Royal Society. Digital technology and the planet. December 2020. https://royalsociety.org/topics-policy/projects/digital-technology-and-the-planet/ [Accessed November 2021]