WHY EXHIBIT?

Reunite with the entire dental profession in 2022 at the British Dental Conference and Dentistry Show
Will you be at the main buying event for the dental profession in 2022?
We pack our lecture theatres with first class clinical and commercial content that meets the needs of brightest and ambitious dental professionals in the UK.
In addition, we deliver those sessions on the exhibition floor to make sure that you the exhibitors get the chance to spend time with the decisions makers that have the ability to make decisions about the implementation of your products and services.
If you want to make an impact on the UK dental professions, the British Dental Conference and Dentistry Show is the place to be.
So, make sure you put yourself at the heart of trading event of the year!
You won't find an audience like this anywhere else....
MORE DECISION MAKERS THAN ANY OTHER DENTAL EXPO...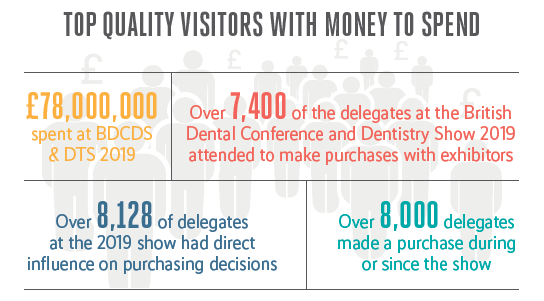 As the largest UK event dedicated to Dental Care Professionals, the British Dental Conference and Dentistry show reflects the very nature of a dental business – seamlessly blending clinical innovation and practical application.
With amazing headliners and insightful speakers, the 2022 show will be brimming with key decision makers hungry for new business solutions
Book your stand Request a Floor plan Request a Sales brochure
Planmeca – Luke Broadhurst – Marketing Director
We come to this Show on a regular basis because we find that over the two days it brings in a mixture of the Dentists from Endodontists to Impact Dentists to Private Dentists, it brings everybody in through the doors, and because we have such a diverse product portfolio, we meet every category. This show allows us to get in front of customers over the course of two days.
It's been very busy, I think the collaboration with the BDA has been a very good move, we've had lots of positive feedback about that and it is very busy. The collaboration is fantastic, it's been called for, for a long time. It's great because it brings the whole profession together, which is what we should be doing, both in terms of exhibitors and delegates.
Acteon – Scott Rogers – Territory Manager
We always come to this show, and usually have a similar presence at the show each year. However, the combination with the BDA was a particular plus for this year, it's increased footfall. It's definitely a positive thing, amalgamating it into this has been great. Footfall has been really good, and we've been meeting high-quality leads during our demos. I really think this show is better than the BDIA.
GSK – Hannah Wilson – Regional Expert Sales Manager
We come here because we get quality interactions with dental healthcare professionals, everyone from dentists, hygienists, also having the DTS is really key for us. So, for us it's about being able to have quality interactions, but also showcase products and get the science of them out there. There's been a lot of these people as well, it's been extremely busy.
Having the BDA collaboration seems to have made the show busier. It's been great, it's been busy from the moment the show opens. We go to a lot of shows, here and abroad. This is definitely the show of the year, the biggest conference for us without doubt.